1. SARCLISA Phase 3 study
The SARCLISA Phase 3 study
SARCLISA is the first and only treatment to be approved based on a large Phase 3 study when given together with Pomalyst® (
p

omalidomide) and

d

examethasone (Pd)
SARCLISA was studied when given together with Pd and compared to Pd alone. 307 people with relapsed refractory multiple myeloma took part in the study. 154 people received SARCLISA + Pd and 153 people received Pd alone. People in the study had at least 2 prior treatments for multiple myeloma, including Revlimid® (lenalidomide) and a proteasome inhibitor (PI).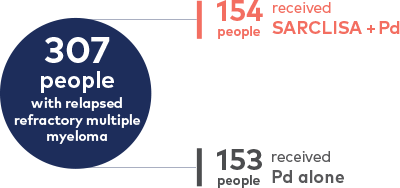 The goals of the SARCLISA study
The main goal of the SARCLISA study was to measure the amount of time a person lives with multiple myeloma without it getting worse. This is commonly referred to as

progression-free survival

Another goal of the study was to measure how many people

responded positively to treatment

. A positive response to treatment means a decrease in the number of myeloma cells in the bone marrow. Response to treatment is determined by tests performed after treatment has begun
You are unique — and so is your Multiple Myeloma
SARCLISA was studied in a wide variety of people with relapsed refractory Multiple Myeloma
About people in the SARCLISA study



Some people in the study had other medical
conditions in addition to relapsed refractory multiple myeloma


2. SARCLISA study results
A proven response to relapsed refractory Multiple Myeloma
SARCLISA was proven, when given together with Pomalyst® (
p

omalidomide) and

d

examethasone (Pd), to help extend the time people live without their Multiple Myeloma getting worse

In the study, people receiving SARCLISA + Pd went a median of 11.5 months without their multiple myeloma getting worse compared to a median of 6.5 months for people receiving Pd alone.
Significantly more people responded to SARCLISA + Pd
More people responded to treatment with SARCLISA + Pd compared to Pd alone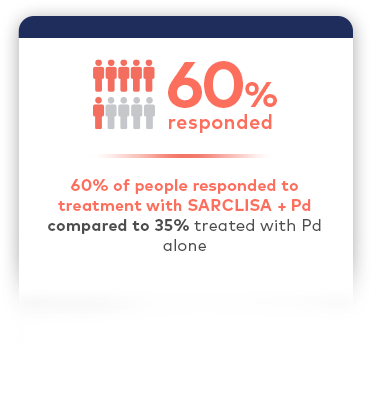 Among people who responded to treatment, the median time it took to respond was 35 days for people treated with SARCLISA + Pd compared to 58 days for people treated with Pd alone
*This measure indicates a reduction in risk of a person's multiple myeloma getting worse or that person passing away.